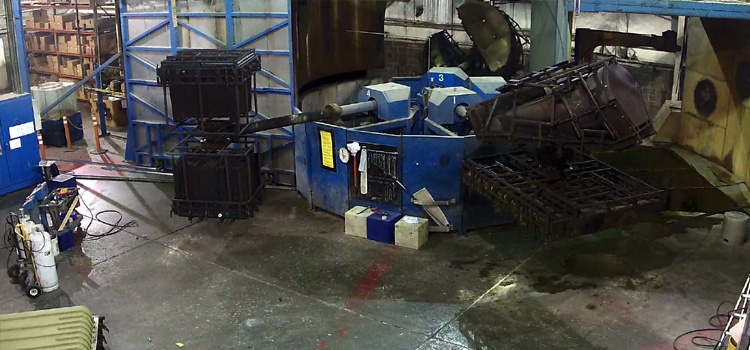 Plastics Company: About Us
Granger Plastics Company opened it's doors for plastics rotational molding production in September of 1994, founded by John Grimes, a recognized leader in the rotomolding industry, with multiple decades of experience. His father, John Grimes Sr., was one of the original innovators for polymer materials to the rotational molding industry.

John Grimes, picture inset with some rotationally molded products from the Olympic Summer Games. (right) Granger Plastics Company during explosive growth in the late 90's
In 1998, Mr. Grimes and his then business partner decided to bring in an additional principal to the business during the period of explosive growth, the new partner would be Jim Cravens, a plastics rotational molding associate of Mr. Grimes' past. In 2000, Granger's new Middletown, Ohio location would require expansion, as Granger's sales growth encompassed customers literally all over the world.
In 2002, after nearly 40+ years of dedication to the rotational molding industry, John Grimes would elect to retire, leaving Granger Plastics to the direction of Jim Cravens. In October of 2017, Cravens became the sole owner, President and CEO of Granger Plastics Company.

Plastics Roto-molding Diversity
Custom Roto-molding Aerospace, Defense, Material Handling solutions and much more!
An ever increasing demand for high quality rotationally molded products has helped propel Granger Plastics Company into a realm of providing high quality solutions to a wide variety of industries served ranging from Aerospace and Defense to Material Handling and Water Quality- and virtually everything inbetween! With high quality Aerospace & Defense solutions from Granger Aerospace, theft deterrent memorial products from ForeverSafe Products, America's leading underground tornado shelters, The Granger ISS and of course, custom rotationally molded solutions from Granger Plastics Company.
Conversions to Plastics
Granger Plastics Company has worked with a number of industry leaders to perform a number of material conversions, where one product was produced in metals or fiberglass and found benefits and cost savings by converting their products to rotationally molded plastics. Numerous conversions have originated from OEMs who experience an increase in their parts quality and durability by converting from either a metal based material such as stainless steel or aluminum to a polymer based materials such as LLDPE (Linear Low Density Polyethylene.). Granger also regularly converts thermoset materials such as fiberglass, polyesters and more for the roto-molding process.
Granger Plastics Company has recently garnered international media attention after converting an extremely large fiberglass product to a much more durable, rotationally molded plastic product. The conversion from a fiberglass product to a plastic product has offered a tremendous increase in maintenance savings for one of the world's leaders in luxury automobile transportation.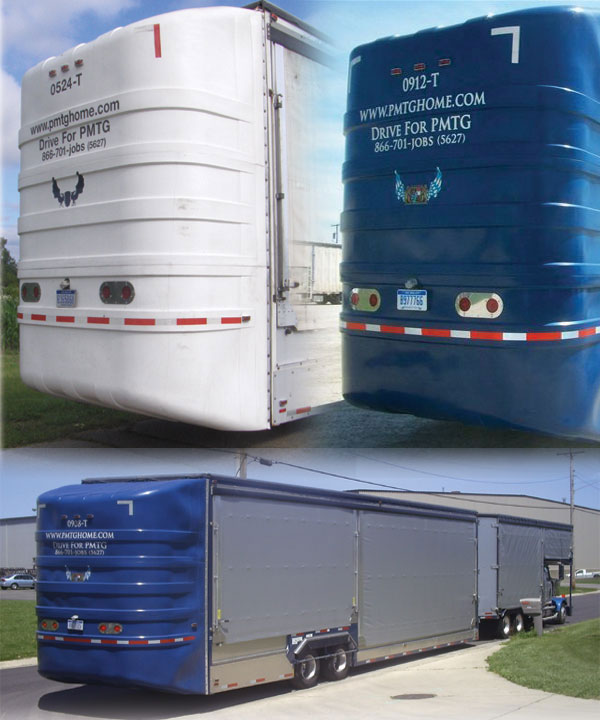 Having introduced the world's first all-polyethylene rear trailer 'cone' as the replacement for 'cones' that have historically been fiberglass, we are pleased to advise that the new PolyCone produced by Granger Plastics Company is performing well in the field: Better impact resistance, better scuff resistance and lower cost. When a PolyCone is dented in the field, we just push it back into its original shape and send our enclosed car hauling equipment back on the road. Damage to fiberglass has always required bodywork to repair. We are pleased with the results of our material conversion project with GPC."
Other Plastics Conversions
Custom plastics conversions for rotomolding are relatively common for many OEMs and other Granger Plastics' clients. Granger's other product conversions from metals or fiberglass continue to encompass a wide variety of industry. Read more about Granger Plastics Companys conversions to plastics below!

Fiberglass Tank Conversion to Plastics
An example of Granger Plastics' converstions to rotational molding is converting what was a previously a FRP tank that was installed underground as a septic tank has been re-designed and converted to the roto-moulding process. The conversion to rotational molding has allowed for larger production volumes, an incredible increase in quality and an even greater increase in life expectancy of the system. As experienced with many fiberglass components such as tanks, they simply do not perform well long term underground, being subjected to all of the ground water and moisture, which ultimately leads to the demise of many fiberglass tanks.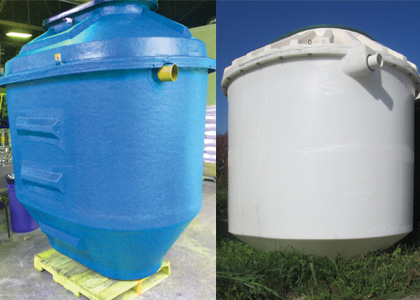 Fiberglass tank (left) Plastics Rotomolding Conversion Tank (right)
Aluminum & Fiberglass Air Cargo Containers Converted to Plastic
Granger's experience providing durable, robust custom air craft containers extends back nearly to the inception of the company. For one of the major international air cargo carriers, Granger produced over 10,000 containers that were originally aluminum, but were converted to rotationally molded plastics which provided drastic savings to this customer in the form of drastically reduced maintenance costs, reduced maintenance frequency and reduced tare weights, thus reducing fuel burn. The large amount of success prompted other air lines and cargo carriers to start working with Granger on standard ULD Containers. This demand helped Granger Industries create the Granger Aerospace division. Granger Aerospace's line of proprietary ULD Containers offer the same bottom line impacting features such as reduced maintenance costs, reduced maintenance frequencies along with getting a better return on your investment, as your containers will fly more often and will require less maintenance. Learn more about Granger Aerospace by visiting https://www.granger.aero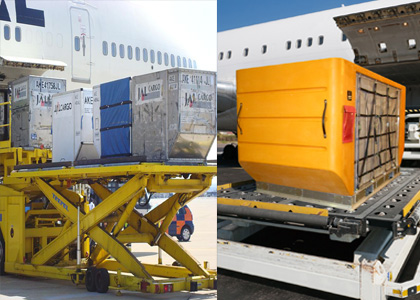 Aluminum ULD COntainers (left) Plastic Body ULD Container (right)
Steel, Concrete and Fiberglass Tornado Shelters Converted to Plastic
With thousands of families relying on the quality roto-molding production of Granger Plastics Company and America's leading underground Tornado Shelter, The Granger ISS. With 20 years of leading tornado and storm shelter manufacturing experience, Granger continues to provide high quality rotationally molded inclement weather protection for families all across the globe. The Granger ISS is a rotationally molded, double wall, foam filled plastic tornado shelter that meets or exceeds FEMA 320 and FEMA 361 debris impact standards of safety. The durable rotomolded construction is superior to underground shelters manufactured from other materials such as Steel and Fiberglass , as the polyethylene construction of the Granger ISS is impervious to moisture and ground water, which creates rotting and rusting issues for both Fiberglass and Steel tornado shelters.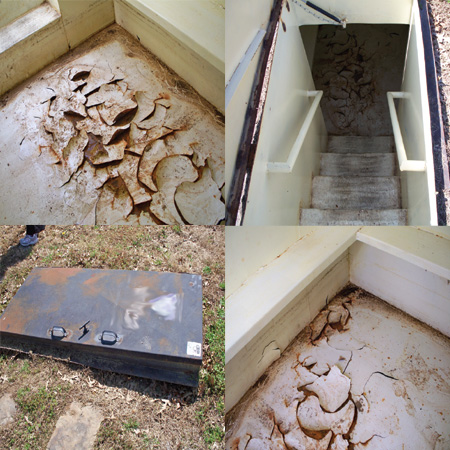 Steel Tornado Shelters have a number of issues including rusting, paint popping issues, increased maintenance and rusting door concerns.
Steel Tornado Shelters are plagued by a number of water and mositure issues, specifically when they are installed underground. Because most all Steel Tornado Shelter designs are "cookie cutter knock offs" of the same basic design throughout the industry, a growing issue for steel tornado shelter consumers is that the units will float out of the ground, even when anchored with multiple yards of concrete. Many of these float out of the ground due to the large flat surfaces that are poorly designed into the exterior shape of the units. Once enough hydrostatic pressure accumulates after or during rain or a storm, some of these units tend to float out of the ground as demonstrated in the picture below.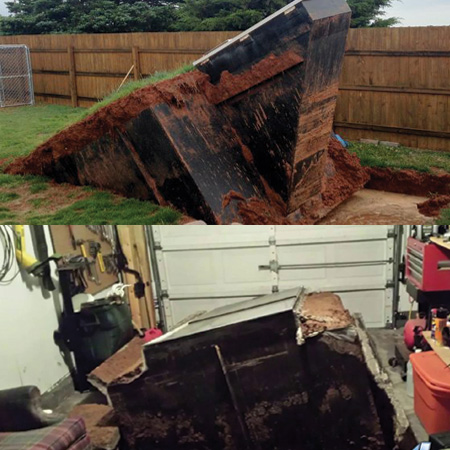 Because of common design issues, Steel Tornado Shelters are somewhat notoriously known for floating out of the ground issues, even when anchored with multiple yards of concrete.
Fiberglass Tornado Shelters were some of the first "retail ready" shelters available to consumers and single family homes beginning in the late 60's and early 1970's. While fiberglass was innovative technology for such technology 50+ years ago, there are better materials than fiberglass or FRP materials to build tornado shelters in todays marketplace.. Like steel, fiberglass is vulnerable to water and moisture when installed underground. Just as boats are commonly needing maintenance and repairs due to water and mositure issues, fiberglass storm shelters are no different.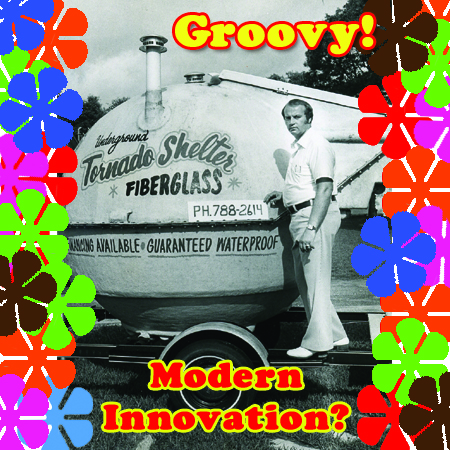 Over the years, fiberglass tornado shelters have come under scrutiny for a number of issues around the country, including leaking, rotting and floating out of the ground. As many in the boating industry will tell you, fiberglass is attacked by water and moisture. A common issue with underground fiberglass shelters is that the eventually start leaking around the seams, where the halves of the shelters are essentially glued together with bonding agents and adhesives. Because of these mositure related issues, underground fiberglass shelters have a limited functional lifespan, where as the Granger ISS Tornado Shelter features double wall, foam filled polyethylene construction, thus eliminating the fears of water deterioration issues and leaking problems.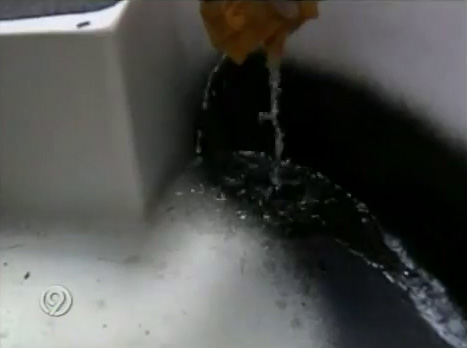 Leaking Fiberglass Tornado Shelter taking on Ground Water, Owner tried to patch, still leaks
The Granger ISS Storm Shelter improved upon a number of deficiencies that plagued steel, fiberglass and concrete tornado shelters. The double wall polymer construction eliminates the fear of rusting, deteriorating surfaces like steel and fiberglass. Unlike concrete, the poly construction of the Granger ISS shelters do not absorb water or moisture. Featuring the longest usable lifespan of any underground shelter, the Granger ISS shelter continues to be installed in yards of homes all across America!
Learn more about the Granger ISS Tornado Shelter by visiting: